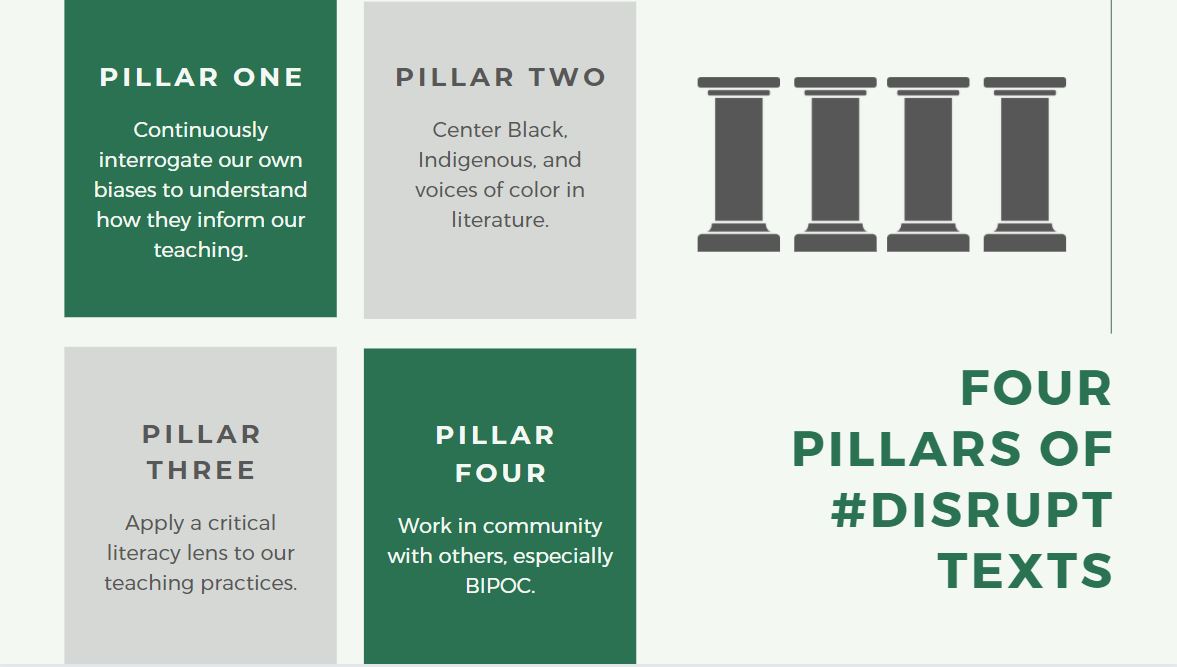 How can we disrupt the canon and move towards anti-racist teaching, as we keep complex text at the center of instruction?
Drawing on the work of #DisruptTexts, this module will engage in learning around four key pillars.
Continuously interrogate our own biases
Center Black, Indigenous, and authors of color
Apply a critical literacy lens to our teaching practices
Work in community with others, especially, BIPOC
Who is this module for?
This module is designed for K-12 teachers (or those who support teachers) who engage in text-based work.
What can I expect?
This module's on-demand content includes readings, short videos, asynchronous discussion, and opportunities to apply this work to your own context. In total, we expect this entire course to take about 9.5 hours.
While we encourage you to engage with the content from all four pillars, you may also choose to select individual pillars to engage with.
If you'd like to do this course alongside colleagues - that's great! Plan to pace activities within the course for independent completion and then engage in discussion at a PLC or meeting.
How long do I have to complete the module?
At present, there is no time limit on completion of activities. The content of this course will remain open to you.
Will I get a certificate of professional learning hours?
You will receive a certificate of professional learning immediately after completing each pillar. Certificate hours will be as follows: Pillar 1: 2 hours, Pillar 2: 3 hours, Pillar 3: 3 hours, Pillar 4: 1.5 hours.