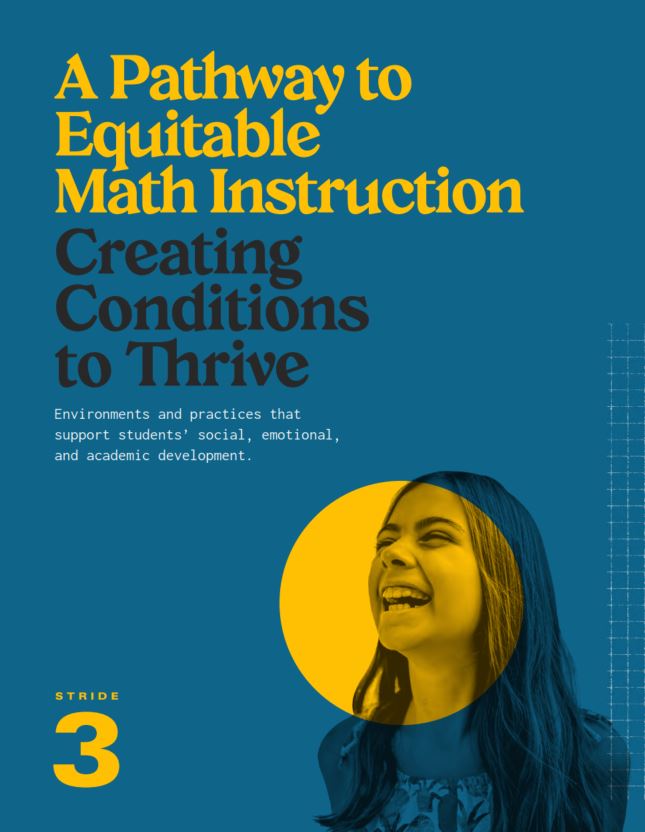 Course Description
Attending to students' social and emotional learning, and academic understanding is critical for student success. No longer can social emotional learning and content be taught in isolation.
In this course, you will understand the need for social, emotional, and academic development (SEAD) in the content area of math and the connections between SEAD and equitable practices for teaching and learning. You will learn how the Standards for Mathematical Practice intersect with social, emotional, and academic development themes, and how they can be utilized in lessons to create a learning environment that focuses on both SEAD and strong, grade-level mathematics instruction. In addition, participants in the course will reflect on how to plan for SEAD while centering multilingual learners.
The course will leverage a powerful resource, A Pathway to Equitable Math Instruction, specifically one of the workbooks that helps math teachers integrate Social, Emotional, and Academic Development (SEAD) into math lessons: Creating Conditions to Thrive: Environments and practices that support students' social, emotional, and academic development.

Course Details
Who is this course for?
This course is designed for K-12 teachers (or those who support teachers) who engage in mathematics instruction.
What can I expect?
This course's on-demand content includes readings, short videos, asynchronous discussion, and opportunities to apply this work to your own context. In total, we expect this entire course to take about 16 hours.
There may be optional synchronous learning opportunities during the course. Registration for these live sessions will be announced once the course begins.
If you'd like to do this course alongside colleagues - that's great! Plan to pace activities within the course for independent completion and then engage in discussion at a PLC or meeting.
How long do I have to complete the course?
The content of this course is available from August 1 through October 17, 2022.
Will I get a certificate of professional learning hours?
You will receive a certificate of professional learning for 16 hours immediately after completing the course and for the time of each synchronous meeting after attendance.
Please reach out to your school district to ensure they will accept these certificates.